FULL GUIDE TO CHECK AND CREATE YOUR FAVICON.
(remember to read
"

The easiest way to add favicon
" for your blogger blog.)
Favicon is a small icon displayed next to
website
URL on the
address bar
. A unique favicon can catch instant user attention and long-term familiarity with a specific website or blog. If you are not sure regarding, if website or blog has a favicon – here is a quick check web service, favicon validator.
Just enter any website URL and hit the check button.

Favicon Validator
web service will check for favicon image for specific URL (as provided). Above image show Favicon details for tothepc (we do have favicon!). In case you do not have favicon on your blog orwebsite, explore following resources:
CREATE BLOGGER FAVICON IN AN EASIEST WAY
Blogger users check this guide is
the easiest way to add favicon
to your blog (
wikivideo Favicon you see on this post : using this guide
) . Lastly, here is cool web tool to create favicon and animate icon from your images.
Now there is no reason for missing favicon on your blog or website.
USE FAVINATOR.DE TO CREATE AN ANIMATE FAVICON
You can host a favicon on
Favinator.de
after uploading your picture in any size and download a zip file contains 3 size favicon inclusing an animate version.Use "Link ref" to add your favicon on your blogger blog or website.Your favicon are hosting on source of Favinator.de , check to add to their gallery if you need. (see image of wikivideo favicon on Favinator.de gallery.)
USE GOOGLE TRANSLATE WEBPAGE
Upload your image and download to extract animate version icon file.
GRAB A FAVICON ONLINE

Here is another way to get
favicon
and that also of your favorite
website
or blog.
GetFavicon
web service
allows you to grab and copy favicon of any website.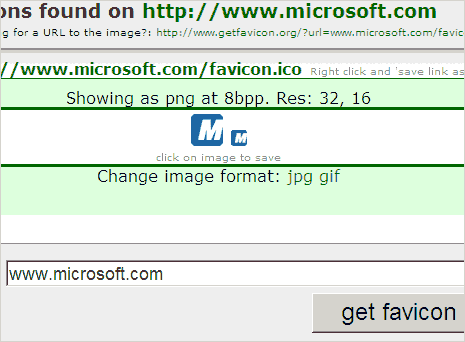 Just enter the website URL and click on
GetFavicon
button to grab its favicon. You can click on displayed favicon and save it on your computer. It also gives option to download same favicon in different image format. Very handy and neat way to steal Favicons!
FIREFOX ADDON FAVICON
Your browser is caching and sending every
favicon
of website you visit on daily basis!
Project 16X16
aims to create huge repository of favicons with the help of this concept and a FireFox addon.

Currently, it has huge collection of favicon created automatically with the help of people browsing the web using Firefox and their 16X16 Firefox addon.